Why Choose Custom Built Homes
Building your dream home should not be stressful. It should be an exciting experience. All you should need to worry about is "what is my vision for my new home?" From your vision, we can create your dream home and take care of everything to make your dream a reality.

Wisconsin Homes offers over 100 standard floor plans to inspire you. Every floor plan can be customized to fit your needs or you can create your own plan. Wisconsin Homes also custom builds cabinets. From entertainment centers to gun cabinets - anything you want - no "industry standards".

Wisconsin Homes are the same, if not better quality as stick-built homes. Each home is precision built and designed to the top level of building codes. Built inside a self-contained, environmentally controlled facility, your home is never exposed to weather elements. All materials are hand inspected to the highest quality standard. With experts in every phase of the construction industry on hand, your home is built with quality their top priority. There is even a third party inspection to insure top quality.

One of the most impressive reasons to choose a Custom Built Home is unlike stick-built homes, which typically take 3-6 months to complete, from the time you order your Wisconsin Home, it can be set and ready for you to move in within 4-10 weeks.




Standard Construction Specifications
2 x 10 Floor Joists (16" O.C.)
Double Rim Joists (All Around Perimeter)
Triple Rim Joists (Along Front & Rear For Homes 56' Long Or Longer)
2 x 10 Solid Bridging Between Floor Joists
3-2 x 10 At Center Of Each Module (Ranches)
Joist Hangers At Center Beam
1/2" O.S.B. (Oriented Strand Board) Bottom Layer Of Double Floor System (Glued & Nailed)
5/8" Underlayment Plywood Top Layer Of Double Floor System (Glued & Nailed)
2 x 6 Exterior Walls (16" O.C.)
2 x 4 Interior Walls (Wider As Required)
7/16" O.S.B. Exterior Sheathing (Glued & Stapled)
1/2" O.S.B. (32/16 Rated Panels) Between Sections On Center Walls
"Tyvek" House Wrap (Wind Barrier)
Double-4 Vinyl Siding
R19 Fiberglass Insulation (Between Exterior Wall Studs)
1/2" Foil-Backed Drywall (Vapor Barrier) On Exterior Walls (Glued & Screwed)
1/2" Moisture Resistant Drywall In Tub & Shower Areas (Glued & Screwed)
1/2" Drywall On Interior Walls (Glued & Screwed)
5/8" Drywall On Ceilings (Glued & Screwed)
Vapor Barrier Spray & Sand Textured Spray On Ceilings (2 Coat Process)
49 Lb./Sq. Ft. Live Load Roof Truss With 6" Heel (24" O.C.). Throughout Most Of Michigan, 81 Lb./Sq. Ft. Live Load Roof Truss
Air Baffle Between Each Truss. To The Peak if Parallel Chord
R50 Blown Cellulose Insulation In Ceiling Of Ranches And Two-Story Homes. R38 Batt Insulation (Lofts And Telmarks)
1/2" O.S.B. Roof Sheathing (5/8" In Michigan) With Roof Clips
2 Rows Of Winter-Guard Roof Underlayment ("Ice-Damming" Protection) On Roof Sheathing
#15 Felt Paper (On Remainder Of Roof Sheathing)
240 Lb. Fiberglass Dimensional Shingles (Limited Lifetime Warranty)
Rolled Roof Vent At The Peak
Aluminum Roof Edge
Fully Vented Pre-Finished Aluminum Soffit
2 x 6 Fascia Board Covered With 6" Pre-finished, Wood-Grained Aluminum Fascia
Solid Oak Door & Window Casing (On Clad Windows)
Solid Oak Baseboard Moulding
Standard Room Features And Specifications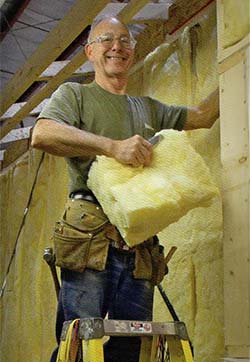 Kitchen
Cabinets With Solid Oak Stiles & Solid Oak Door Frames With A Solid Oak Raised Panel
Lazy Susan In Base Corner Cabinets Where Possible
Drywall Soffit Above Wall Cabinets (8' Sidewall-Flat Ceiling), Cove Molding (9 ' or 1 0' Sidewall-Flat Ceiling)
Pre-Formed Laminate Counter Top
30" Range Hood Vented When Possible
8" Deep Double Bowl Stainless Steel Sink
Single Lever Faucet With Sprayer
GFI Protected Receptacles Above Counter Top
110V Receptacles For On-Site Gas Range
Tilt-Out Sink Trays (Where Available)
Cutlery Tray Insert
Spice Tray Insert
Built-In Cutting Board
Concealed Door Hinges
36" Wide x 72" High Refrigerator Space
Bathroom
One -Piece Fiberglass Tubs And/Or Showers
Anti-Scald Tub & Shower Faucets
Water Saver Toilets (1.6 Gallon Flush)
Vanity Cabinets With Solid Oak Stiles & Solid Oak Door Frames With A Solid Oak Raised Panel
Pre-Formed Laminate Counter Tops
China Drop-In Sink
Solid Oak Medicine Cabinet
Light / Vent Fan
Single Lever Faucets
GFI Receptacle By Sink
Deluxe Chrome Towel Bar & Paper Holder
Mechanical Trip-Waste On Tub & Sink
Utility Room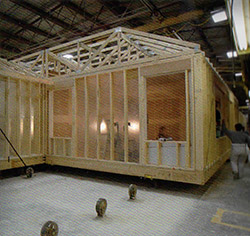 Plumbing For Washer
220V For Electric Dryer Or 110V For Gas Dryer
Bedrooms
Bi-Fold Closet Doors With Trimmed Openings
Fire Escape Sized Window (Egress Window)
Living Room
Solid Oak Spindle Railing For Open Stairways (Where Standard)
2 Switched Receptacles For Table/Floor Lamps
Electrical
200 Amp 40/40 Service Panel
2 Exterior GFI Receptacles
Nickel Lighting Package
Exterior Lights By Exterior Doors & Patio Doors
White Switches, Receptacles & Cover Plates
12 Gauge Copper Wire Sized According To Specific Circuits
Smoke Detectors In Bedrooms, 1 Or 2 Near Bedrooms & 1 In The Basement Hard Wired On One Circuit
Plumbing
3/4" & 1/2" Type "L" Copper, Hot & Cold Water Supply Lines
PVC Plastic D.W.V. Plumbing
Shut-Off Valves Where Possible
Miscellaneous
Finished Drywall Throughout
Pre-Finished Interior Doors